Recycled QWA #2: "rosa parks" "what really happened"
Tuesday, 2 January 2007
First published on 3 November 2005 at QueryLog.com. Republished with permission.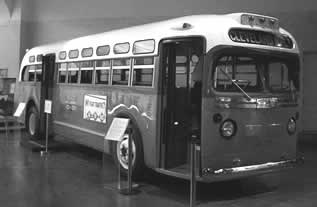 Mrs Rosa Parks died a week ago on 24 October 2005. While many have celebrated her refusal to take a back seat on an Alabama bus as an act of courage paving the way for improved race relations, like so much history, the reality doesn't bear a great similarity to the retelling.
There was a stenography student on the bus that fateful day in 1955 who was practicing for her vocational test. The entire event was recorded word for word. Until just this week the transcript lay buried in a desk drawer in the Governor's palace where the young lady forgot it the next evening. We purchased it on eBay.
Finally, we at QueryLog.com can reveal what really happened.
ROSA PARKS
(Steps onto bus and pushes driver out of the way of the first seat.)
BUS DRIVER
Excuse me, ma'am. We were doing repairs on the seats in the front of the bus this morning and they're not bolted down correctly. Please take a seat in the back of the bus.
ROSA PARKS
Fuck you, Casper!
BUS DRIVER
Oh, ma'am. Please. There's really no need for that kind of language. These seats are simply not safe. They'll be repaired tomorrow.
ROSA PARKS
I ain't going to the back, honky, and not you or the whole damn Confederate Army is making me!
BUS DRIVER
Ma'am. Please. I do not want you to get hurt. You must sit in back where the seats aren't being worked on.
ROSA PARKS
You are not threatenin' me?!
POLICE OFFICER
(Stepping onto bus.)
I couldn't help overhearing from the street. Is there a problem?
ROSA PARKS
Arrest me?! I'll kick you plumb in your little pink googlies, you pizzle biting cracka'!
POLICE OFFICER
Whoa, whoa. Ma'am. No one's getting arrested. I just wanted to see what the shouting was about.
ROSA PARKS
You can't scare me with your gun and your big black stick, muthafucka'!
POLICE OFFICER
(Looks upset like maybe he'll cry.)
Well, ma'am. I'm quite sure I didn't deserve that.
ROSA PARKS
I'll tell you what you deserve, honky. Picking cotton till your fingers bleed and a good beating and rape every night for supper.
DRIVER
Ma'am, the seats in front aren't safe. I must insist you take a seat in the rear with everyone else — white and black.
ROSA PARKS
I shall not. I demand to be arrested!!
POLICE OFFICER
I have half a mind to oblige you, ma'am, but bad manners are not illegal at this time in Montgomery.
ROSA PARKS
(Kicks the officer in the testicles.)
Fix you like the cracka' bitch you are!
POLICE OFFICER
(Doubled over in pain.)
That'll do. You're under arrest.
ROSA PARKS
On what charge?!
POLICE OFFICER
(Cuffing her and walking her off the bus.)
Not going to the back of this goddamn bus for one thing.
ROSA PARKS
(Flailing and screaming for help.)
You hear that!? I know y'all heard that! Help me, Jesus! Help me! I'm being lynched!!