Recycled QWA: why some people are smarter than others
Sunday, 18 November 2007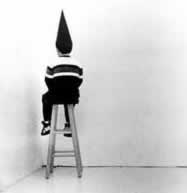 A friend of mine is a teacher dealing with teens in California. Recently one of said teens called my friend old and stupid while declaring himself intellectually superior. Teen lights an M-‌80 with a short fuse less than a minute after walking away from conversation. Teacher, in perhaps the best chance he'll ever have at getting through to someone again, reminds the kid of how stupid teachers are while wrapping up the hand and trying to keep the fingers on.
Some people are smarter than others because they don't do stupid shit and have no drive to do so. Why?
Part of me wants to say, "Because they're not genetic back-‌wash who would be naturally selected to die or become unviable for breeding." But that's pointless, overly obvious, leaning on metaphysics and flawed.
Nature pushes boundaries and stupidity is just another niche to be explored and colonized if there is any success in it. Watching Fox News for 10 minutes conclusively demonstrates stupidity is a nutrient rich habitat.
So, back to why.
Why?
Beats the fuck out of me. All the time.