Recycled QWA: Do It Yourself: Hymenectomy Procedure
Monday, 21 June 2010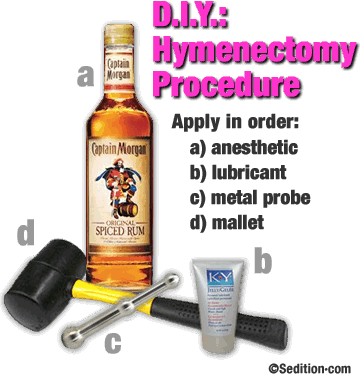 Do It Yourself: Hymenectomy Procedure
Apply in order:
anesthetic
lubricant
metal probe
mallet
For the love of the impenetrable Virgin DO NOT really do this yourself. Get help. A good angle with the mallet can be quite difficult otherwise.
Me: Do I have to watch you every second?
Myself: Well, it can be difficult. You should try it.
Me: You're gonna get us sued.
Myself: Ha-‌ha-‌ha-‌ha-‌ha-‌ha-‌ha-‌ha! See you can be funny. What'll they take I wonder? The mortgage? The back property taxes? The IRS bills? The collection of B-‌grade fossils and electric guitars? Oh, ha-‌ha-‌ha-‌ha.
Me: Shut up.
Myself: You could sell it all and still be peering over the edge of the hole you've dug trying to become human!
Me: Fine. I'm out of here.
Myself: You'll be back.
Me: Not any time soon I won't.