Recycled QWA #6: Why should a president be impeached?
Tuesday, 27 March 2007
For fucking sneezing on the salad bar.
That is to say, we should impeach the president of the United States of America for the smallest infraction of the law whatsoever. The president works for the citizens of the US as our highest law enforcement officer. He's either within the law completely or he's unfit for the work. If he's not one of the greatest Americans living, he should not have the greatest job America has to offer. We're not his lackeys. He answers to us.
It is that simple but I know some of you want more.
Many, maybe most, of the presidents we've had have damaged the United States. Whether starting wars, funding foreign terror groups and dictatorships, funneling money into personal interests, approving assassinations, putting Americans in prison camps, or pardoning horrific criminals—like William Calley—who don't deserve it.
You think the current guy is bad, you're right. But what happens whenever we have a guy this bad in the captain's seat—and God! he stinks to Hell—is that we forget the last guy—Clinton in this case—was also an ass-‌reaming, child killing, tub of goo who spent more time trying to erode American freedom than he did getting his knob polished by secretaries, interns, and beauty queens.
So, they continue to get worse. The precedents build and soon there is no pressure for the president to do anything but exactly what the fuck he feels like doing.
And guess what? Because, in part, y'all were unwilling to legally oust Reagan and Clinton, that's exactly where we've landed. [I will admit the words "President Cheney" and "President Gore" fill my heart with horror but the point stands and their heads could have rolled just as metaphorically.]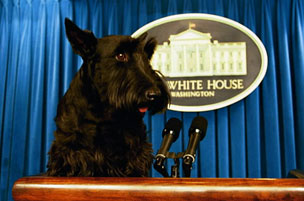 George W Bush, the pinnacle of human evolution and civilized progress said of Iraq–
I will not withdraw even if Laura and Barney are the only ones supporting me. George W Bush as reported in "State of Denial"
The President just remarked that he wouldn't end an illegal, catastrophic, phony war. Not even if the entire Congress, Judiciary, and country stood up and told him he had to.
Without the threat of impeachment being a bit more than a joke, the only ones to whom American presidents are beholden now are their wives and dogs. Could be worse, I guess. Could be Tipper, Shiloh, and Daisy.
See also All purely hypothetically, of course.